Maternity fashion has come a long way (or so I'm told), but as someone who enjoys being stylish-it still has a way to go. As I have been venturing into the world of Maternity fashion I have learned two things: 1-it's not all very flattering, 2-the super cute stuff has the price tag to go along with it. Of course there are exceptions to that statement, but my solution (for now) is to find styles by the designers and companies that I love (non-maternity) that will work alongside my changing body. So let's talk dresses.
Exhibit #1: The Stretch(y) Dress
Sydney from The Daybook Blog in H&M


Why it works for a prego chick:

It stretches. Enough said. Essential to remember-make sure its long enough-there is now more belly to cover. Keep it classy.
Get this one @ H&M right now for only $25
Why it works for any woman: This dress style is great to layer over leggings, thrown on a vest, a statement necklace, or scarf. Definition of versatile.
Exhibit #2: The Maxi Dress
Why it works for a prego chick: This flowing style hugs you where you want it to (eh-the ladies), and keeps it easy-breezy everywhere else. No pressure on the belly either (potty runs are now safer).
Get it @ the Blue Door Boutique for $45
Why it works for any woman:
This effortless style looks polished and approachable. It's simple to transition from the beach to a night out, and sexy because it leaves something to the imagination.
Exhibit #3: The Trapeze Dress
Dress via
LOFT
Why it works for a prego chick:
Well-there's no waistline yet you still get to show off those sexy stems that keep you moving everyday.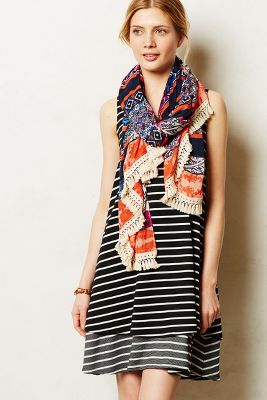 Why it works for any woman: There's no waistline! Show off your arms and legs without baring every single curve in your body. Pair it with a statement clutch and bold shoes-you will turn heads for sure.
Exhibit #4: 3/4 Sleeve, Shift Dress
Why it works for a prego chick:
The shape of this dress leaves room for your growing belly to breathe while still being chic and classy. Wear it with flat sandals during the day or strappy heels at night-also a versatile choice.
Why it works for any woman:
This is a classic shape that has repeated itself for a reason. Sexy with a little leg, but not over the top-
you could be confused as a hooker in the wrong part of town
-kind of sexy. The above look is a great example of how accessorizing can take a simple color-block dress to a rave-worthy outfit.
Which style speaks to you? What kind of dresses do you prefer- pregnant or not?!
*all images are sourced from the product's company site. these images belong to them and must be attributed for reuse.